"Visual media created for students, by students."
AnteaterTV is the only student-run visual media organization on the UCI campus. As an organization, we strive to document events and share community knowledge at UCI through the production of photo and video content. With various creative departments, AnteaterTV focuses on exciting places in Orange County, new music, campus life, current events, and much more. Through our internship, we provide undergraduate students with fast-paced, hands-on experience that is vital to this industry's workforce.
Applications to join AnteaterTV for the 2023-2024 academic year are now open until Friday, October 13 at 11:59 PM!
ATV has applications available for three positions: Production Intern, Anchor Intern, and Management Intern. The Management application is comprised of four sub departments (Marketing, Outreach, Finance & Fundraising, Community Development), with intern positions available for all four teams. Click Here to see the specific details and responsibilities for all available internship positions.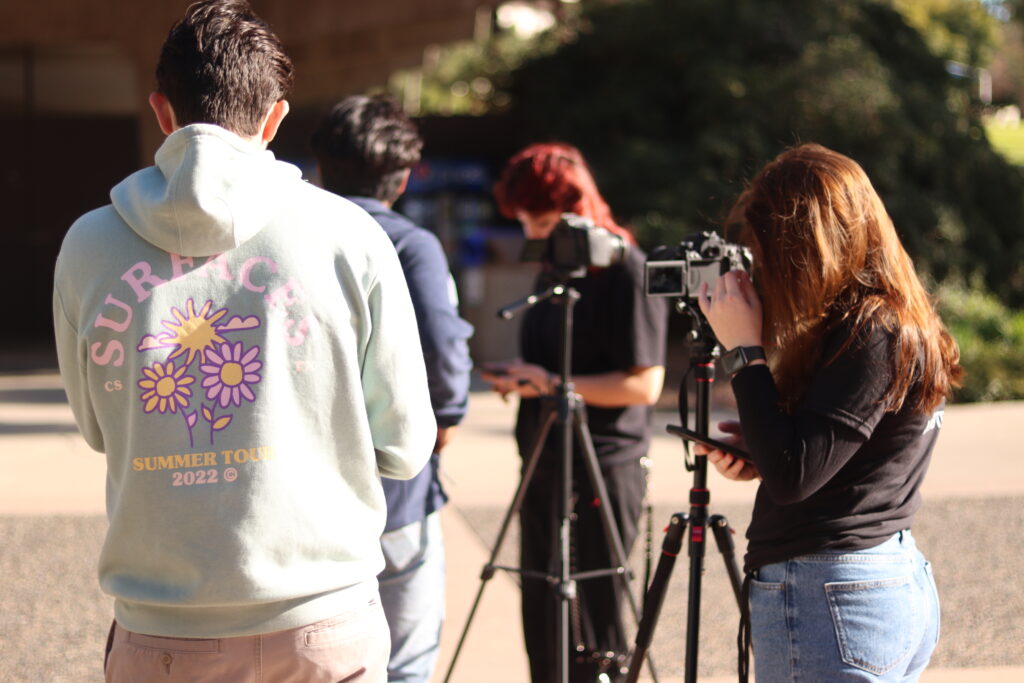 Production interns are responsible for filming and editing videos made for all production departments within ATV.
Anchor interns act as our on-screen talent and are responsible for hosting episodes for our production teams in additional to any other promotional videos for our organization.
Management interns help support  ATV in ensuring that we are able to create and release our projects. The following positions under management are available: Marketing, Outreach, Finance, Community Development.
Applications will be open until Friday, October 13 at 11:59 PM.
Please direct any questions to cdd@anteater.tv and CC dop@anteater.tv and vicepres@anteater.tv in your email. We thank you for your interest in AnteaterTV, and make sure to follow us on Instagram and Youtube! Happy applying!
Frequently Asked Questions
What positions does ATV offer? How many positions can I apply for?

AnteaterTV offers a variety of opportunities for students to gain hands-on experience in the media industry. The three teams within the ATV Internship are Production, Management, and Anchoring. Click Here to learn more about each internship.

 

You are able to apply to all three teams (Production, Management, and Anchoring) in ATV. However, please be aware you will only be accepted into one team at this time. Should you be accepted into ATV, you may have the opportunity to switch teams at a later date.
What is the general time commitment?

On average, the estimated time commitment as an intern is 3 hours per week. ATV hosts weekly 1-hour general meetings that all members of ATV are required to attend, and depending on your department directors may schedule team meetings with their interns as needed. Aside from required meetings, depending on the project, interns may be expected to dedicate additional hours based on each project's needs. For production interns and anchors especially, hours may fluctuate depending on what productions you are involved in and whether you are required on set. Filming for one project generally lasts one day for several hours, but some projects may require additional days of filming.
Is experience required?

While prior experience is beneficial, it's not always required. As fellow students, we understand the challenges and difficulties of finding professional job opportunities, so we are not expecting professional experience in your resume or portfolio. We welcome applicants who are passionate and eager to learn. We want to see your creativity and ideas, so feel free to share any school projects you've done in class or in your extracurriculars as well as any personal projects. If you're new to a role, we will provide opportunities for training and support to help you grow in your position.
What does a successful application look like? How can I prepare and make sure my application stands out?

To prepare, we recommend reviewing the responsibilities and expectations for the position(s) you are applying for. Find out how your past experiences and interests align with our positions and make sure that is reflected in your application responses, resume, and portfolio.
What is the application process like?

To apply to become an intern with ATV for any of our departments, the only requirement is filling out our application and submitting your resume and/or portfolio, which is a section in the application. Applications are typically reviewed by the entirety of our executive board, with directors in the Management Department focusing primarily on applicants for their team. We assess applications based on your submitted materials, such as resumes, portfolios, and application responses.
Is it necessary to have a particular major or field of study (i.e., Film & Media Studies, Business Administration, etc.) to apply for these positions?

No, we welcome applicants from diverse academic backgrounds. While certain majors or coursework may be relevant to specific roles, we value a wide range of skills and perspectives. Many members of ATV, both past and present, have come from a background outside of film and media production, and being in ATV has helped guide them to a path they are passionate about and gave them skills that complemented their career goals!